Approximately half of RMH authored publications are freely available to read, with a gradually increasing trend.
But that means half our output is behind paywalls, where many potential readers cannot access it.
Open access (OA) rates increased in 2020 due to publishers making COVID related research freely available. This may not be an enduring change.
Gold OA = article is made free by publisher, usually by payment of an article processing charge (APC) by the authors.
Green OA = article is made available by authors uploading a copy to an online repository or website. This is free for the author to do and is generally in line with funder mandates

NHMRC and ARC funding conditions include making research publications available by deposition in a repository as minimum. Publishing agreements may vary as to author rights to green OA.

Bronze OA = publisher makes individual articles freely available to read. May change at any time and no right of re-use.
Hybrid OA = a model in which journals combine subscription charges and APC's to make individual articles available. It is sometimes considered to be a form of 'double dipping'.
Articles that are open access have higher citation and download rates than articles behind paywalls (1).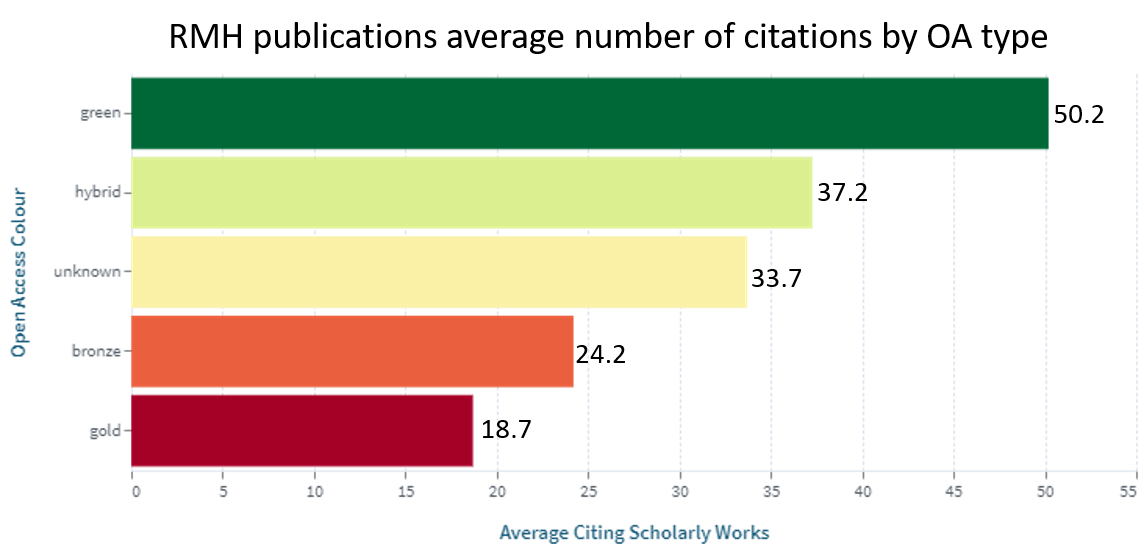 Research is also more likely to be used commercially if it is OA.
Data source: Lens.org
You can check your publishers OA policies at the Sherpa Romeo website.
Further reading: Wikipedia - Open Access
Piwowar H, Priem J, Larivière V, et al. The state of OA: a large-scale analysis of the prevalence and impact of Open Access articles. PeerJ. 2018;6:e4375. Published 2018 Feb 13. doi:10.7717/peerj.4375
Swan, Alma (2010). "The Open Access citation advantage: Studies and results to date". eprints.soton.ac.uk. Alma Swan. Archived from the original on 3 January 2020. Retrieved 3 January 2020.
Davis, P. M. Open access, readership, citations: a randomized controlled trial of scientific journal publishing. FASEB J. 25, 2129– 2134 (2011). www.fasebj.org